Beorn's 1st Birthday Party!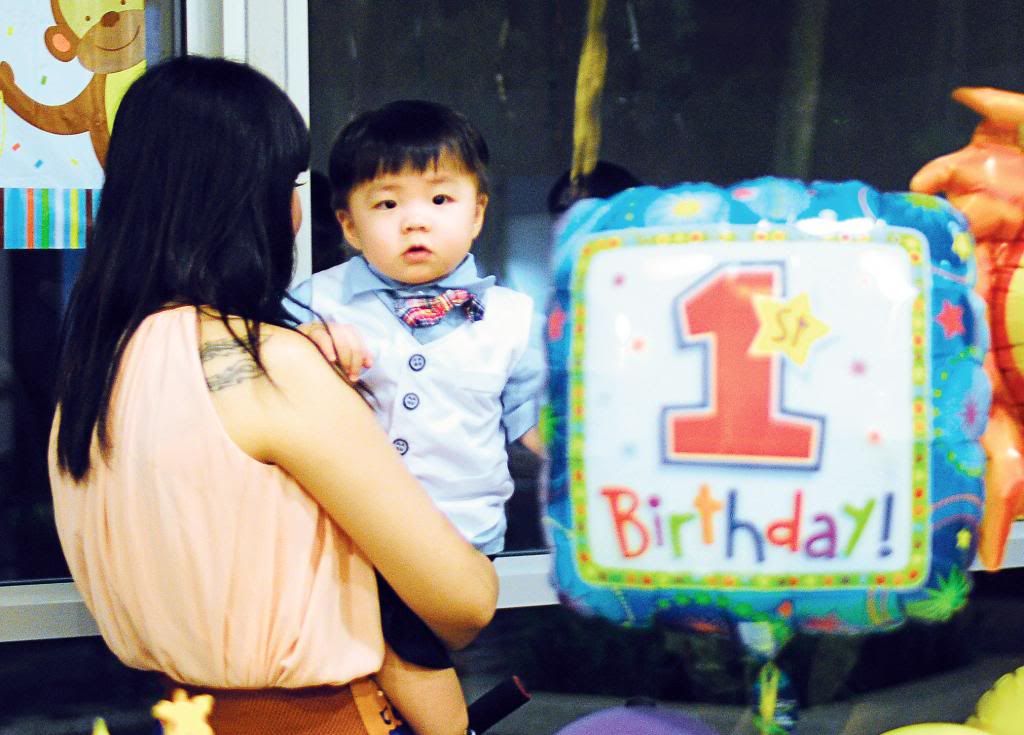 (Ok, i know i should be publishing this in 2013 but due to some reasons, it delayed till now.)
Birthday theme:
Animals/Safari
(Its a common theme for kids' birthday so i tried real hard to make it different.)
Everything was in the rush especially whenever we wanna head out, the boy will fall asleep! -.- No choice, last minute we came out with plan B. So the hus drove my siblings and I over as the caterer, cake delivery, balloon delivery etc are reaching soon! Panicked.
Have to thank my aunt for helping us to receive the balloons and standby in the function room just in case if others arrived.
So i've ordered 100 balloons with 2 balloons bouquets and 2 air-flow pets. Mixture of colors as the boy likes it colorful. Balloons is a must cause the boy loves it! Luckily i didnt rent a helium tank and D.I.Y the balloons myself cause already running out of time.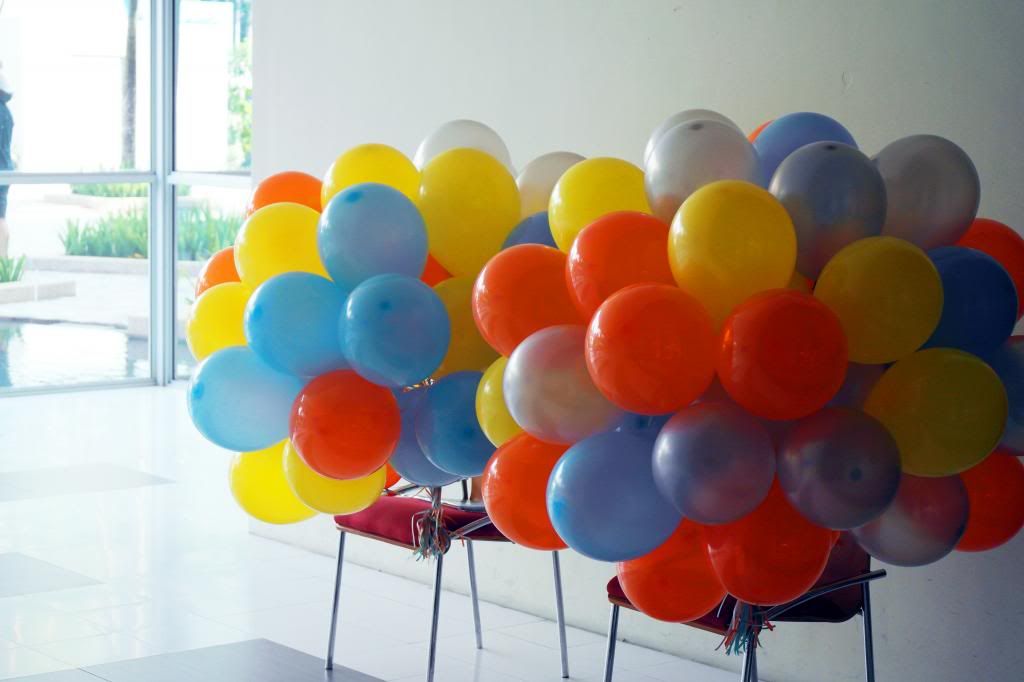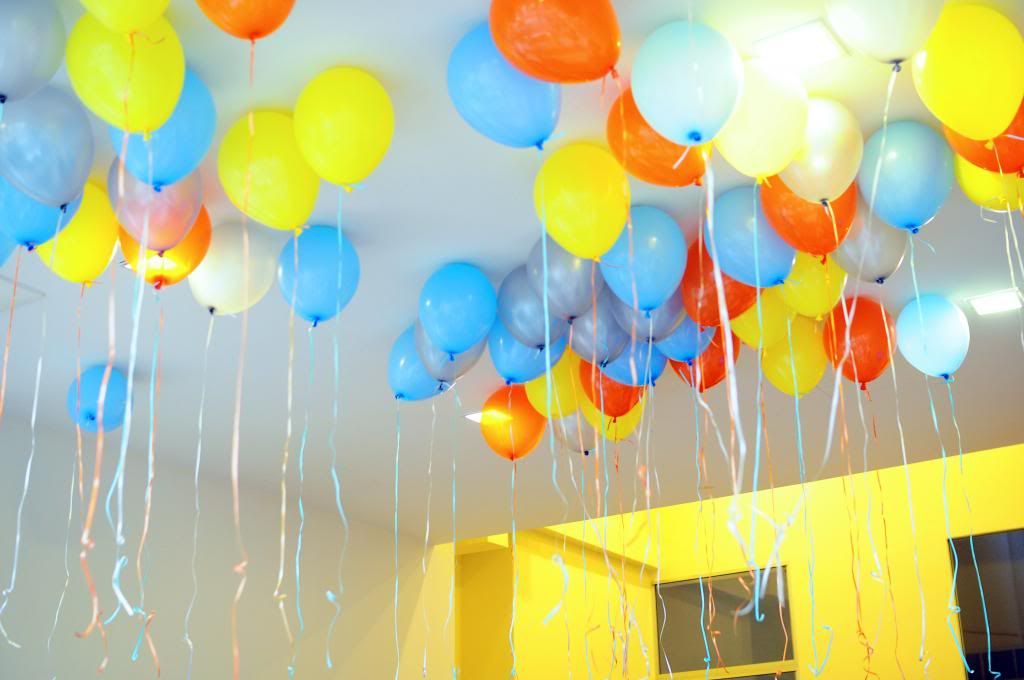 One placed on one side of the table.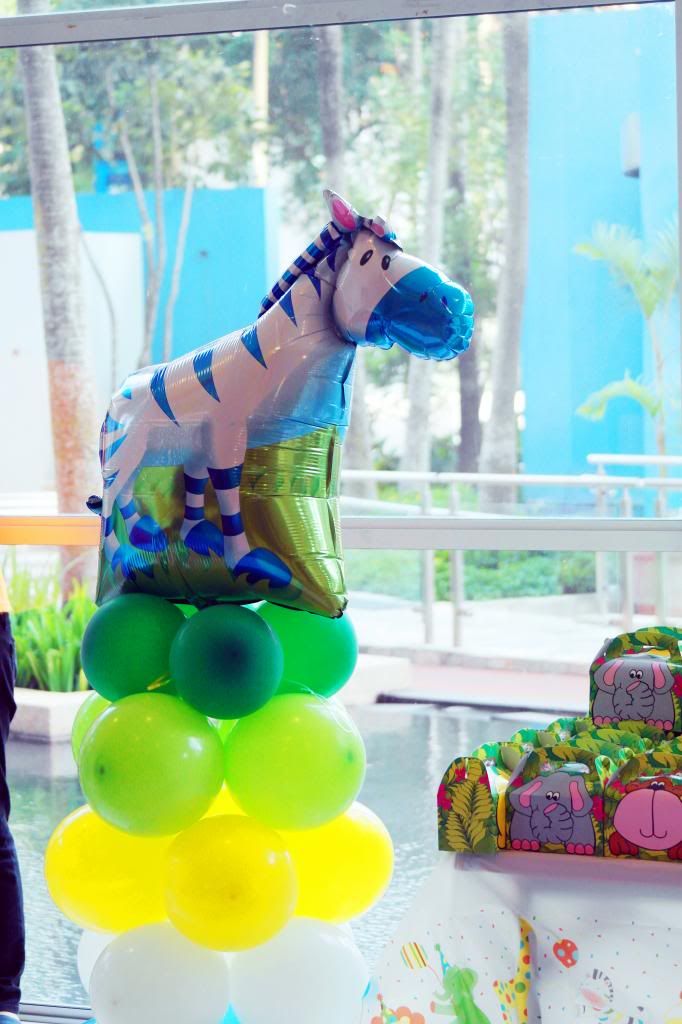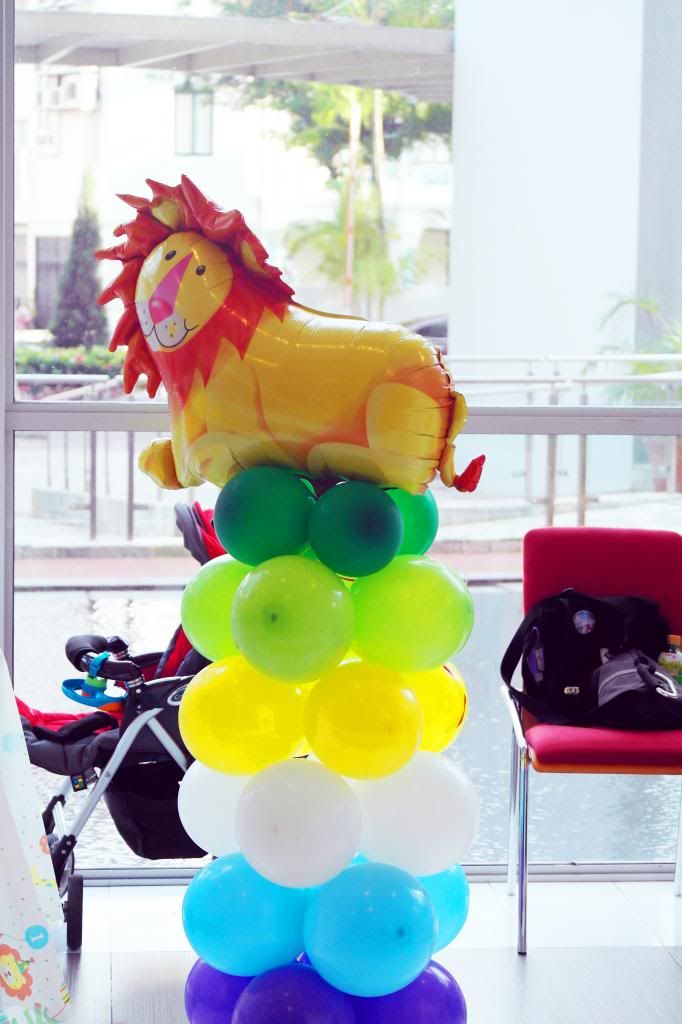 Panicked even more as we're short of manpower. Having to arrange the tables and chairs, pack the cupcakes in each animal box, placing up the banner, arranging the kids goodies. Thank God, Regina and her boyfriend came early to help me. Otherwise i think im gonna cry.
We bought our own banner instead of using the one that was given together with the balloons. We reused the foam alphabets that we did for Beorn's Baby Shower.
The animal boxes that i ordered from US. Singapore sellers marked up the price like real crazy. I ordered it when Beorn was only 7 months old. Lol.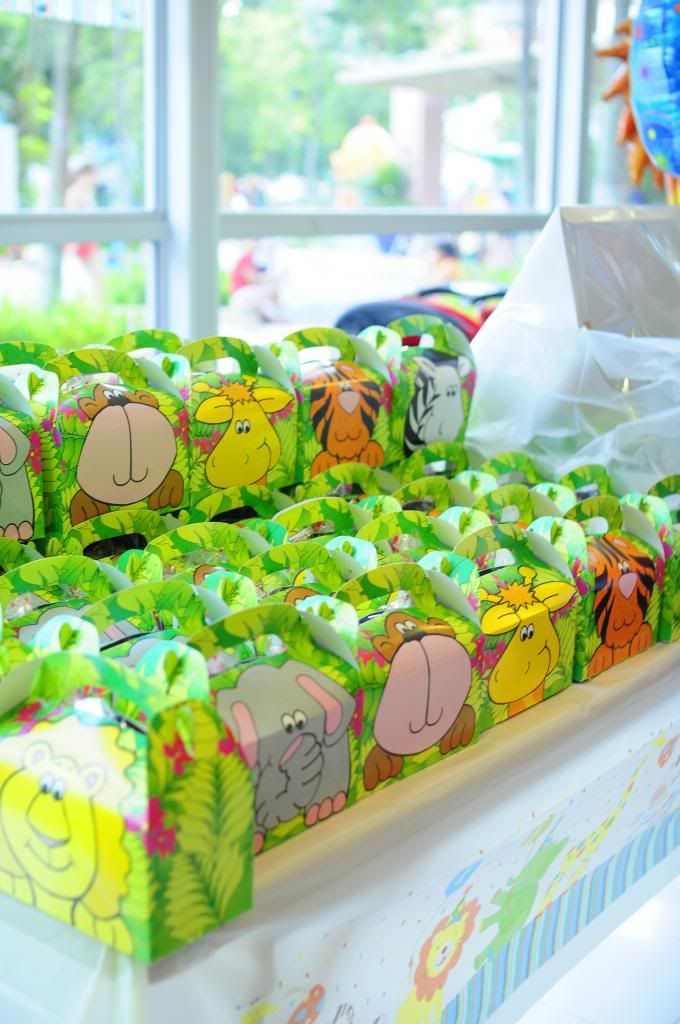 Since the balloon we ordered to use for the family photoshoot is still surviving, we decided to place it on the table too as decor.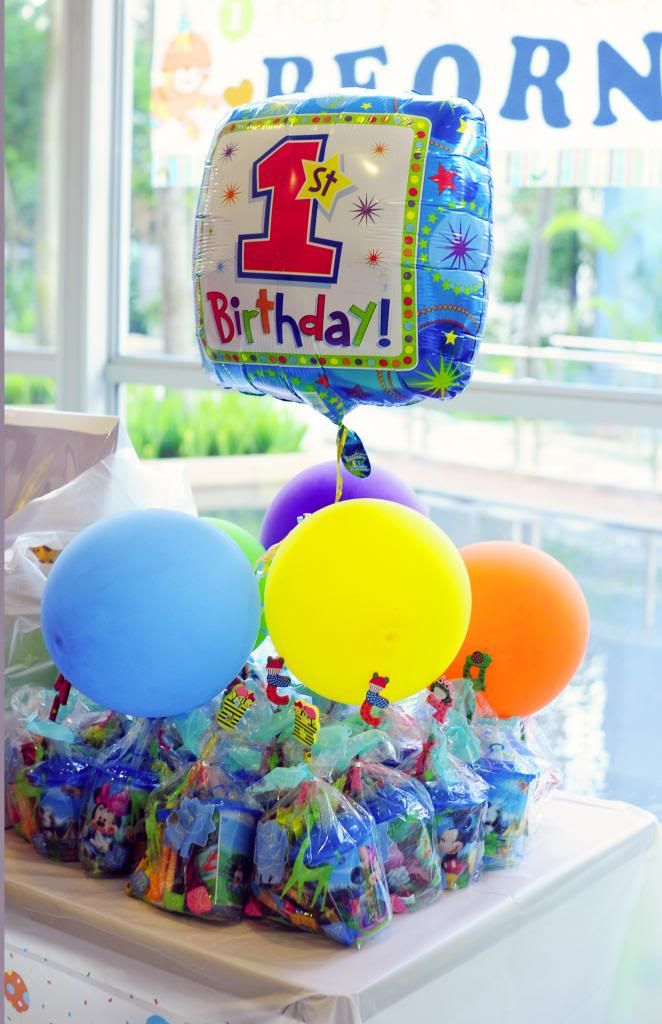 The Guestbook corner. It looked kinda plain so placed the 2 air-flow pets on it.
Watch Beorn grow.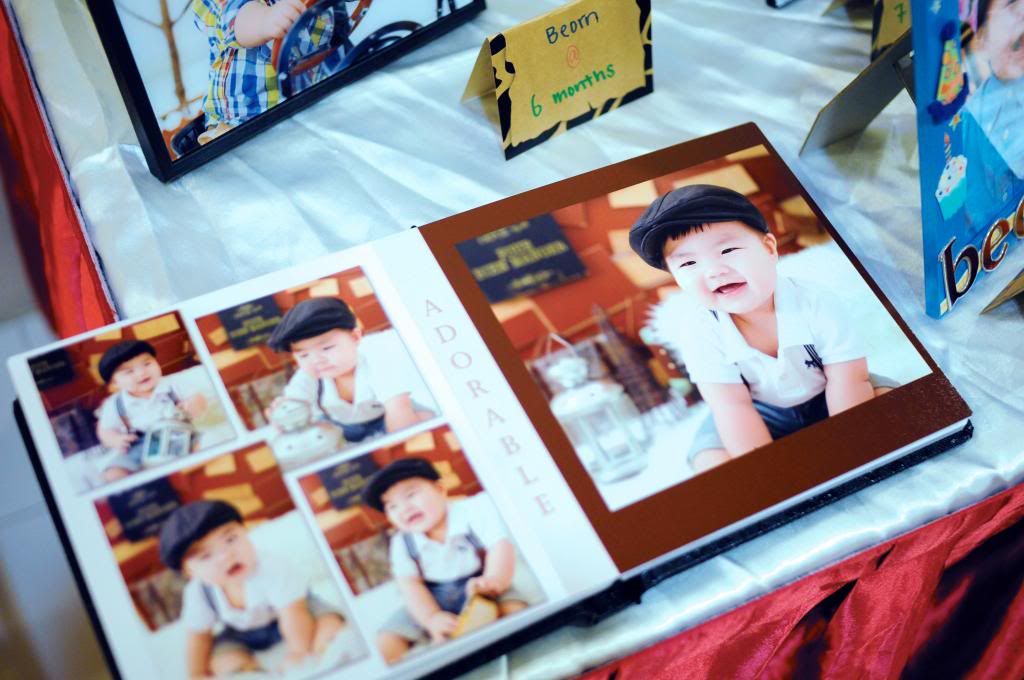 Placing the station signs.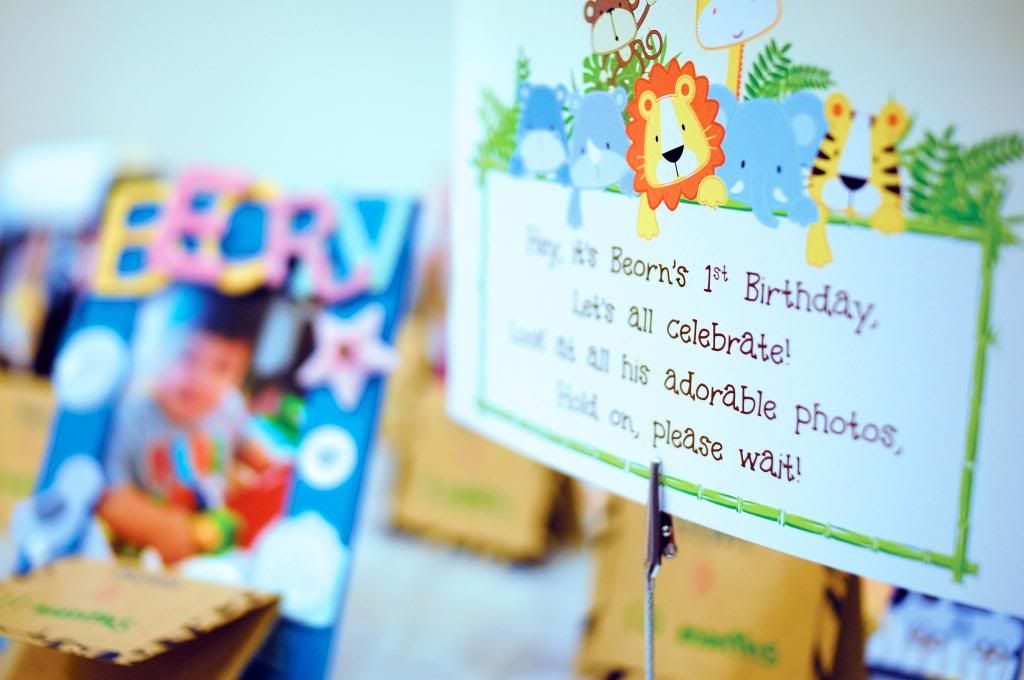 The caterer came in time as i rented a few tables for guestbook corner and to place the frames. A pity that i was too busy entertaining that i didnt even get to taste the food or even take a shot of each dishes.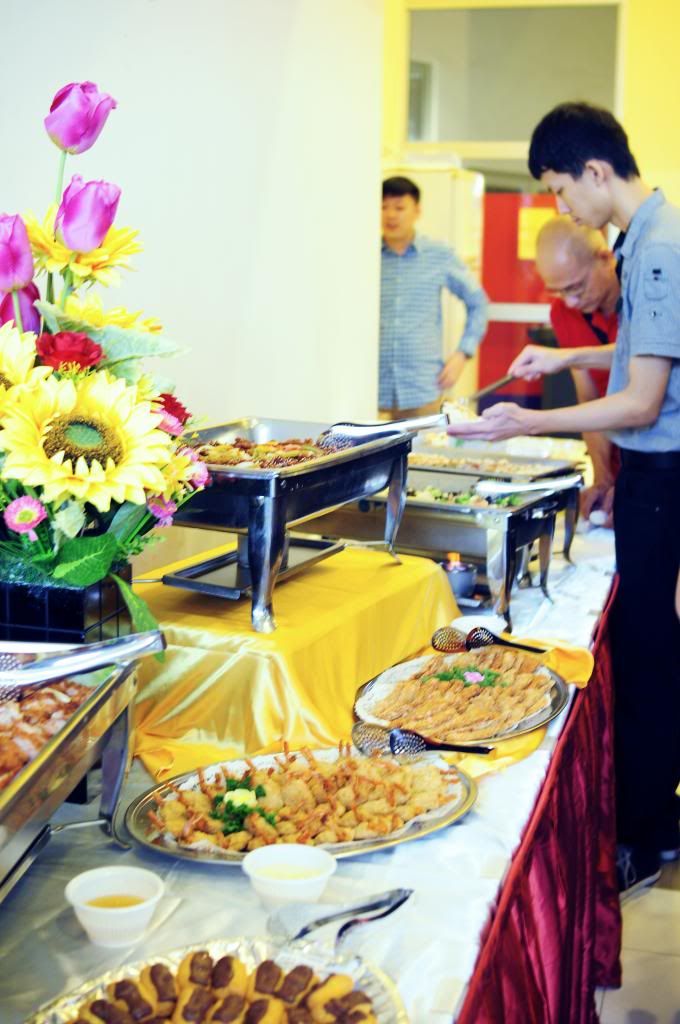 Godma and Clarissa came early too. Thanks to them, they helped me to arrange the dessert table. As usual, too busy to take a shot of it. Wanted to get people to do it but not worth to pay $500 just for the simple decor and a few desserts. Not forgetting to thank Godma for preparing the yummy food and for cooking porridge for the birthday boy. Received a lot of good comments on her food 😉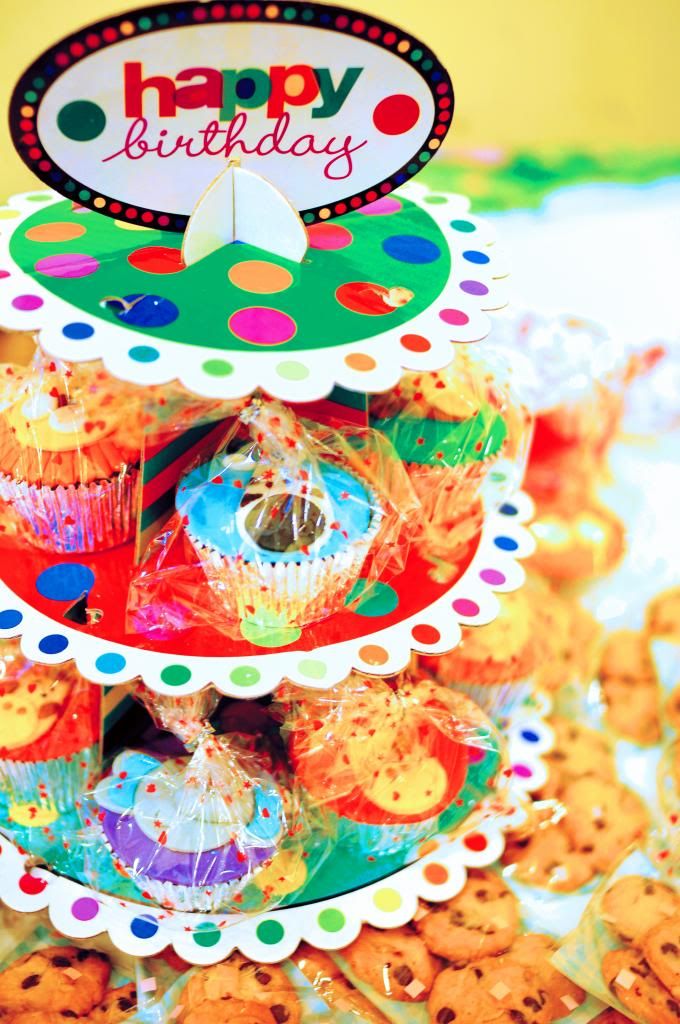 Cupcakes for dessert table and as goodies to place in each animal box. Ordered 200 for it. Cake was from the baker too. Thanks to Lenny for her good recommendation and thanks to the lady for free wrapping 😀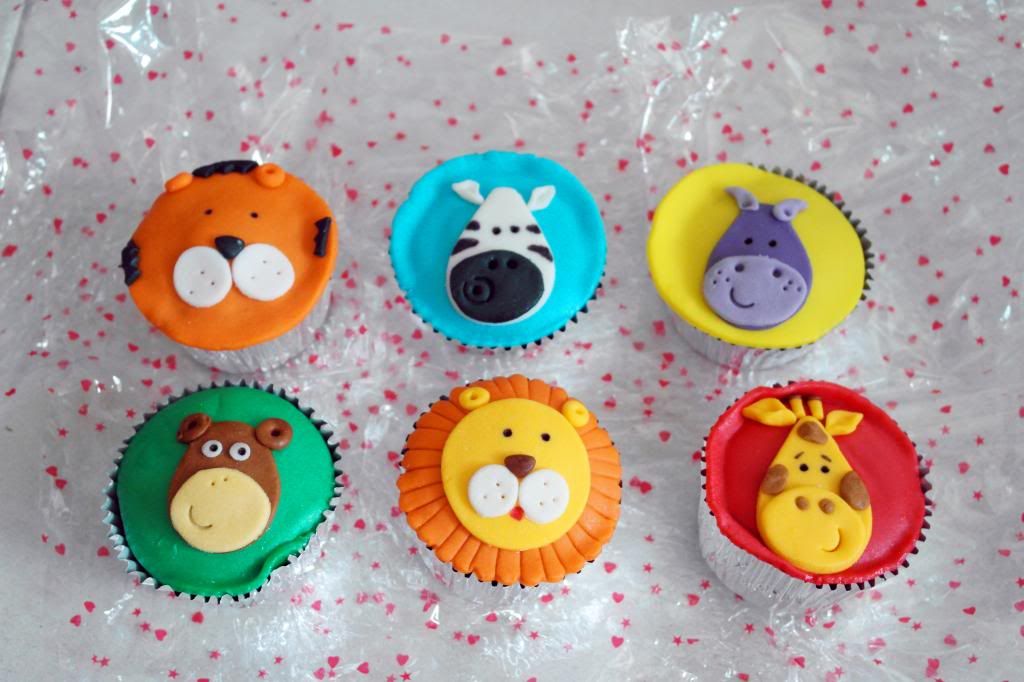 Panicked even more as more guests arrived and im still arranging and preparing! Worst, hus' relatives came together with mil and so, i gotta stopped to entertain a little. I was perspiring at that moment and the hus took forever to reach as he went to fetch the boy, my parents and my relatives. Everyone was asking me where is the hus and the boy. I answered more than 10 times. I would probably seems rude as i remember that i answered them without eye contact as i was arranging stuffs. Boo.
Finally the crews from Busybody Studio arrived! They're indeed professional. The moment they stepped in, they started setting up and doing test shots. Was stuck to choosing to pay people to do the dessert table or get instant print counter. Im glad that i've made the right choice ;D The amount paid was worth it. Fast in printing, good quality, good customer service and cheerful crews!
Some of the props.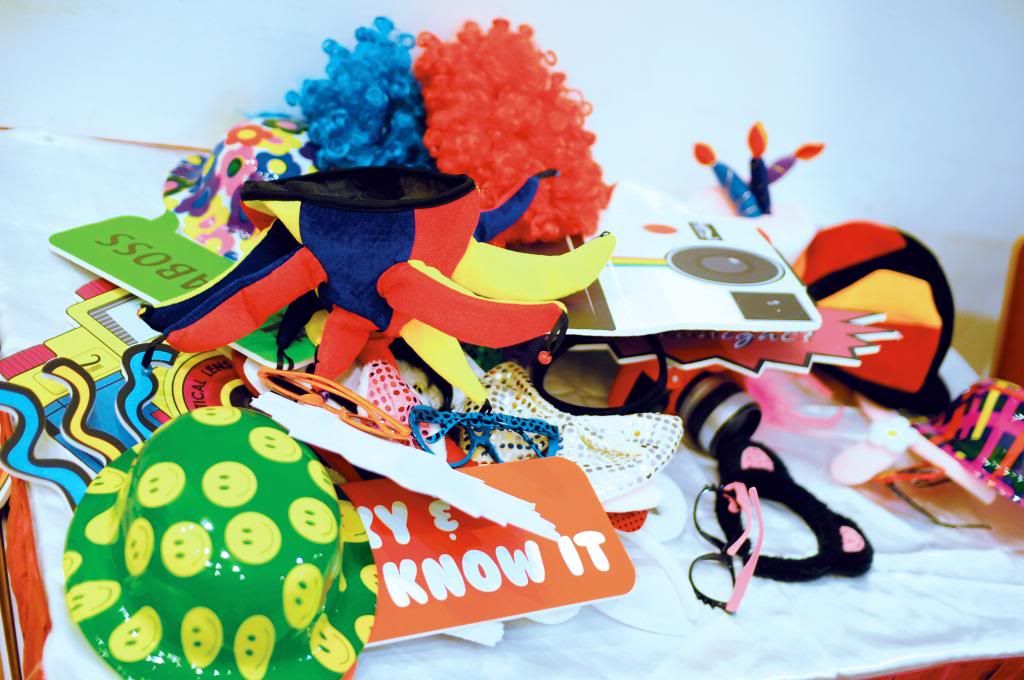 So the boy finally arrived! Changed him and i was like, finally i can take a breath now.
His OOTD. Ok, his bow tie went out of place. It would be a nice shot if his legs didnt get cut off =/
Teething hur, boy?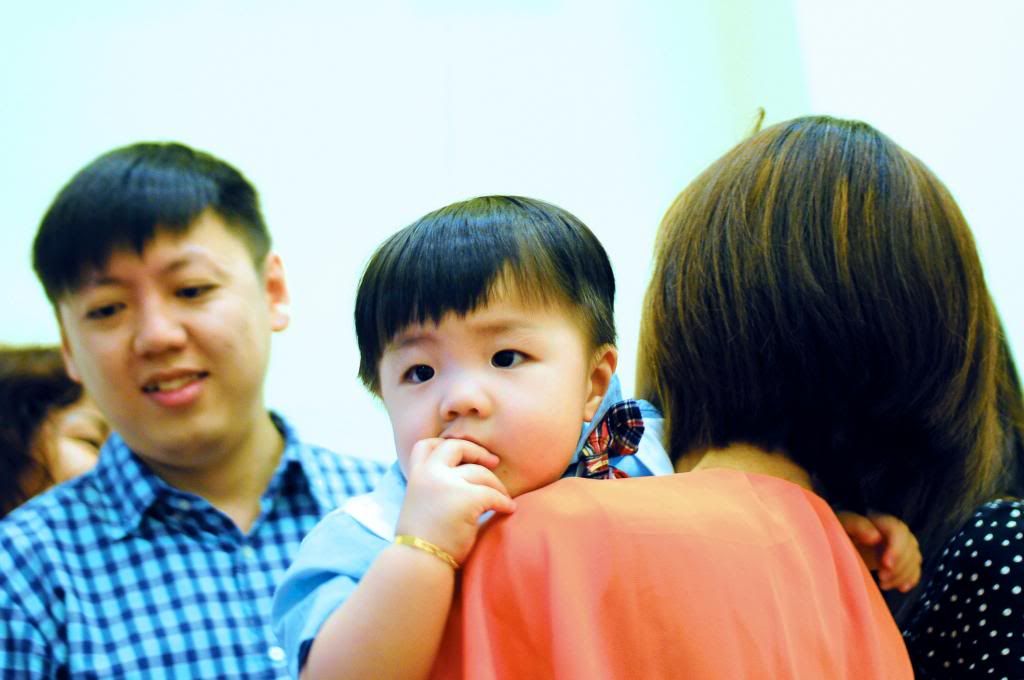 Beorn and his 'Yi Po' (hus' aunt).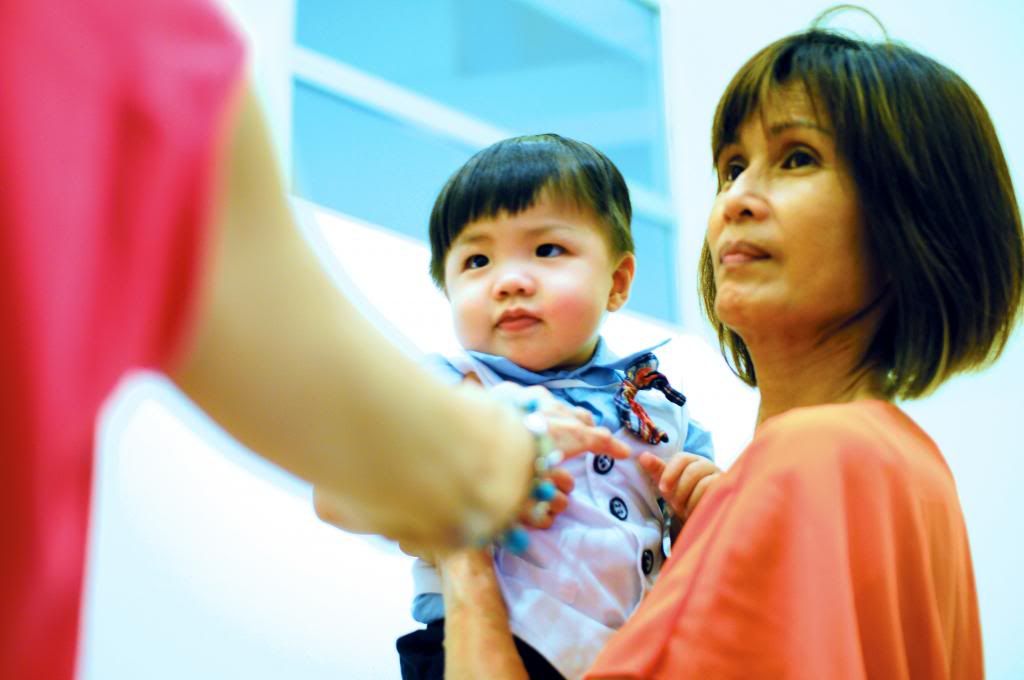 One of my favorite shots. Beorn and his great-grandma.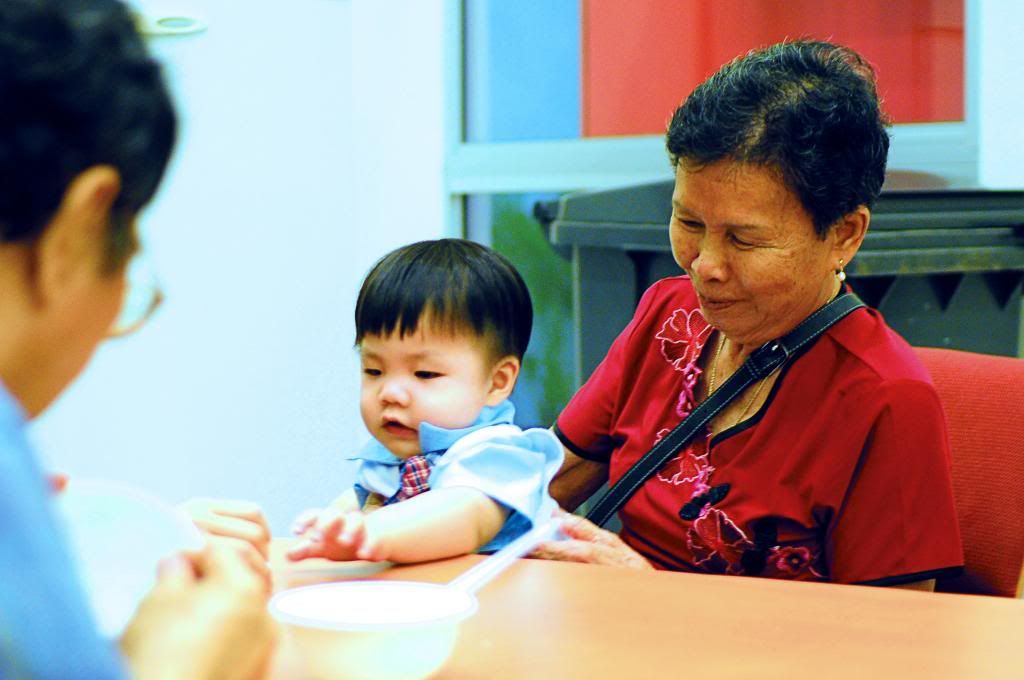 This was how it looks like at night.
Spot the boy trying to grab the string. I like the shot below because my arm dont look so flabby. Lol!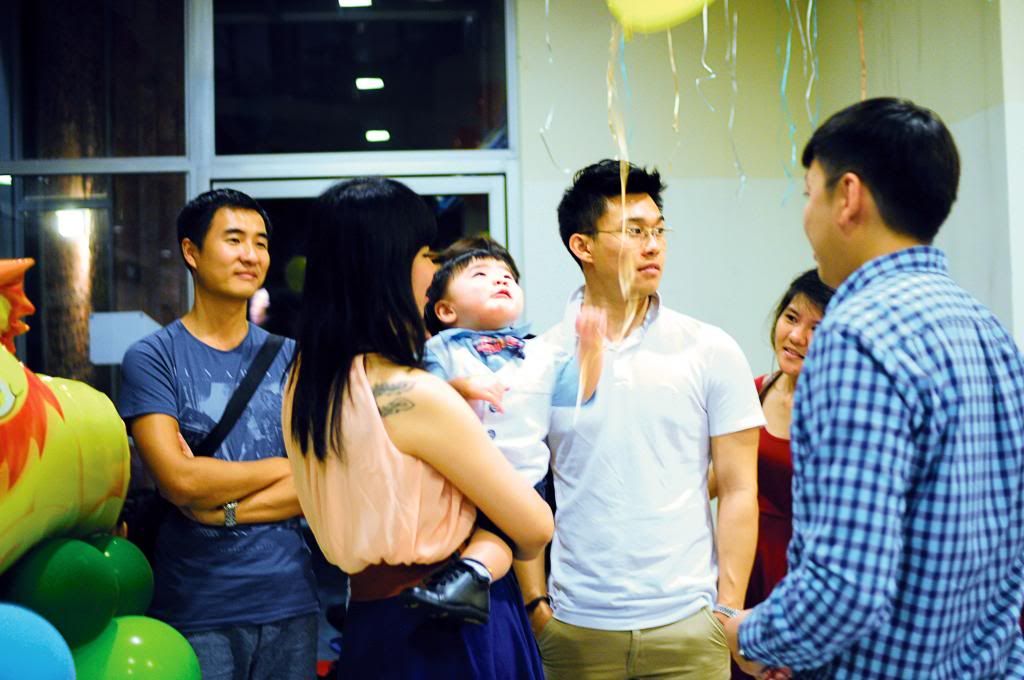 My unglam facial expressions when my father told us to give a speech.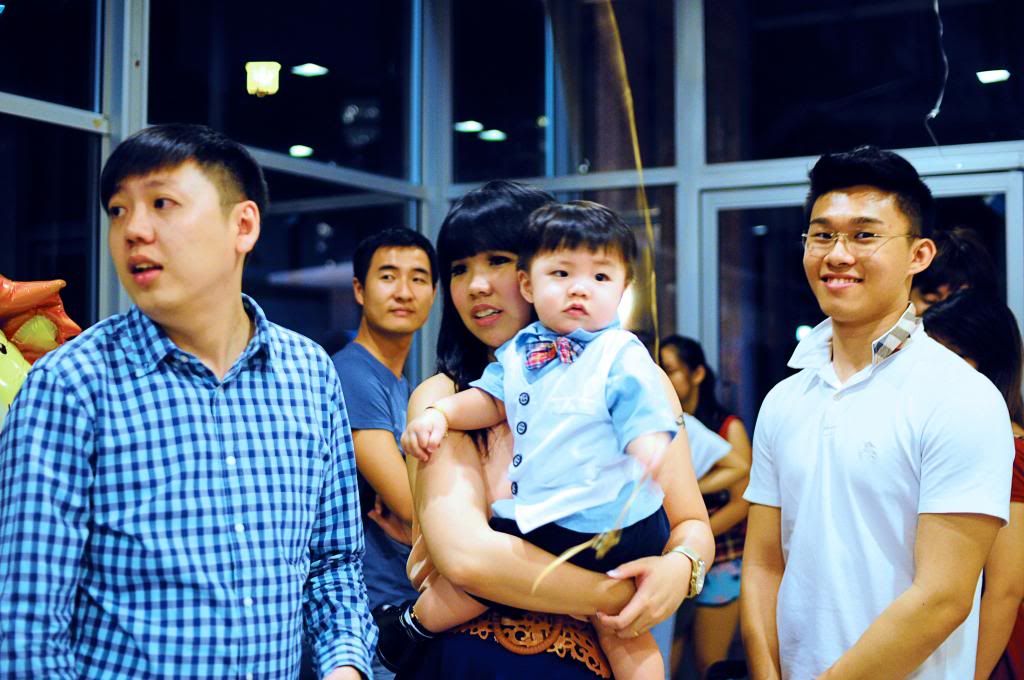 Gathering everyone for the cake-cutting.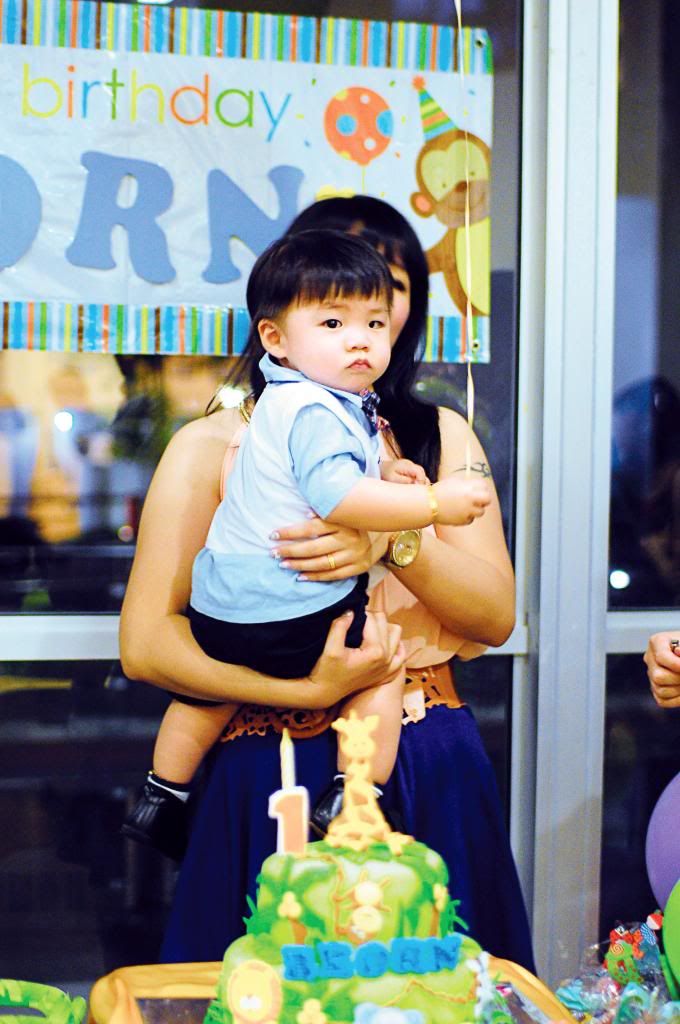 Beorn's birthday cake!
The baker would draft out the design to let me see and to approve before doing up the cake. Giraffe is Beorn's favorite animal so we decided to have it on the top.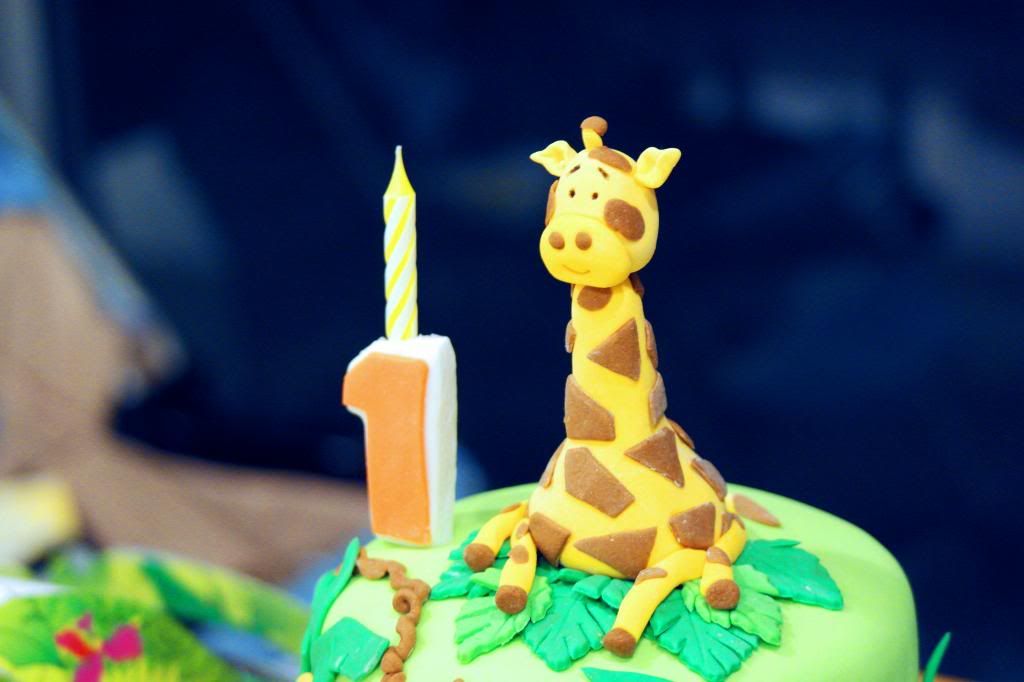 His name in glittery blue! Of course, its safe to be eaten.
I had ordered a few fondant cakes before and most of the fondant was too sweet and hard that i threw it away. But the cake was great! The fondant and the cake itself tasted just nice. Not too sweet or hard. Good for kids and elderly too!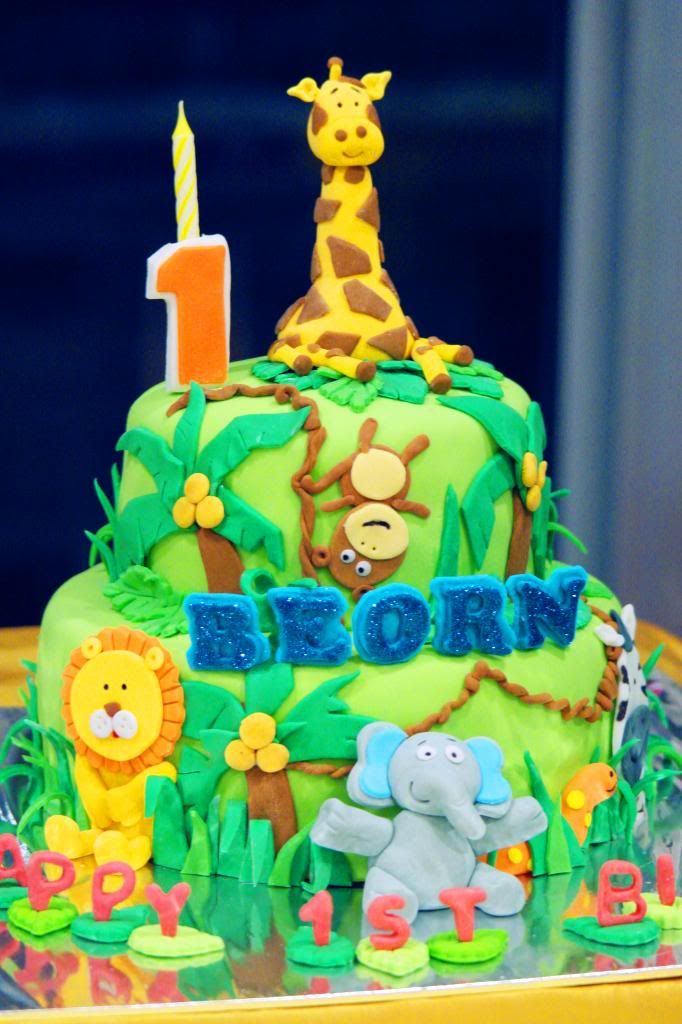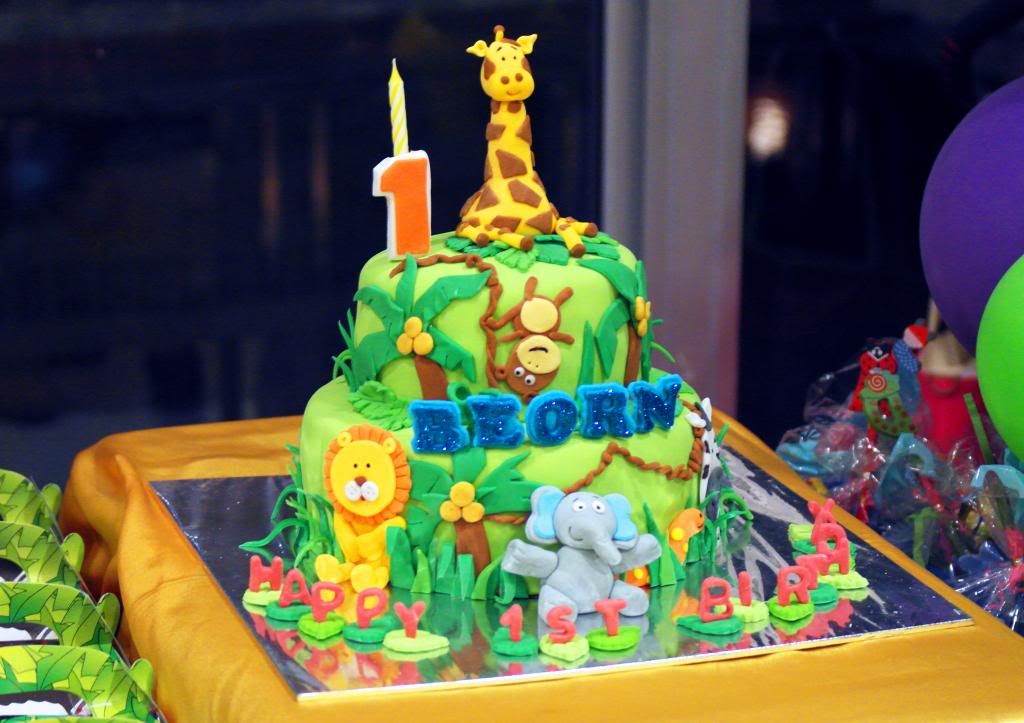 Never easy to take a proper shot with him looking at the camera especially when he's feeling sleepy and there are so many guests.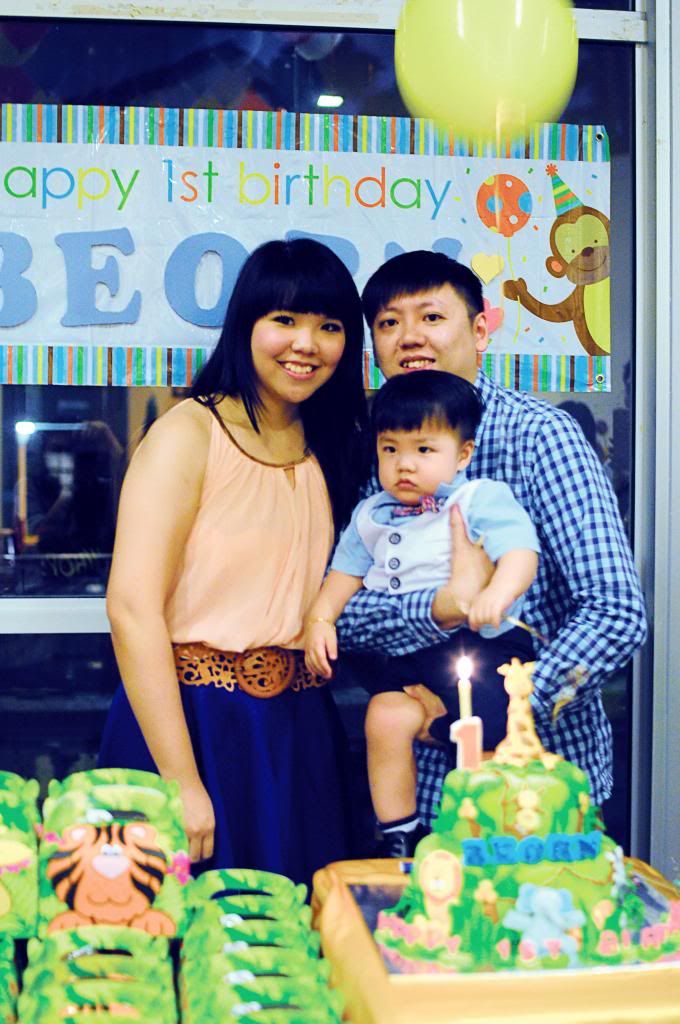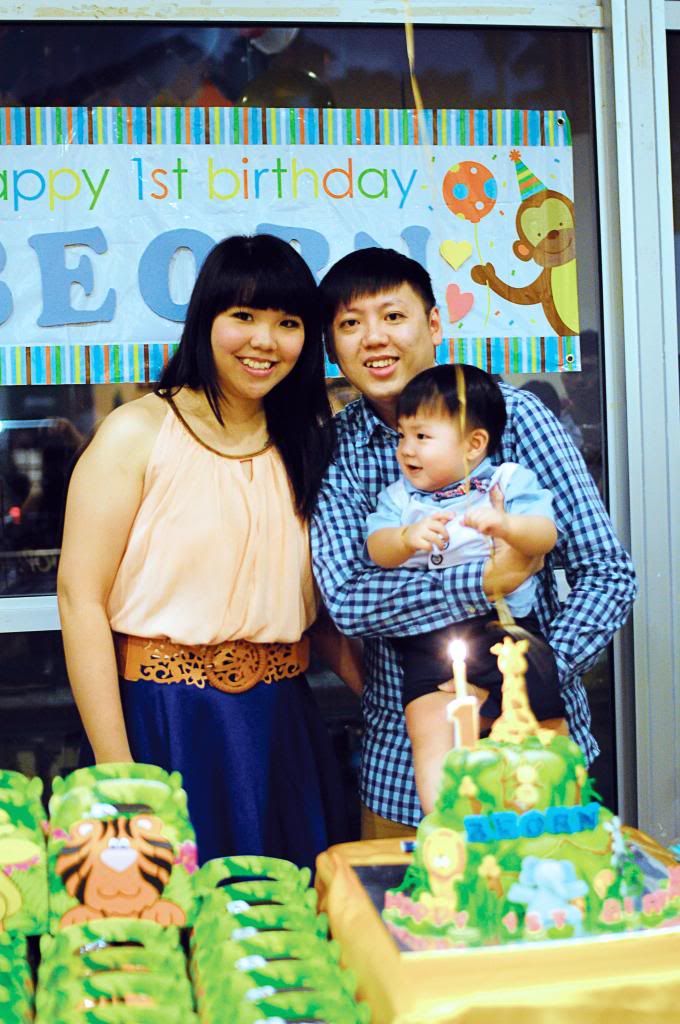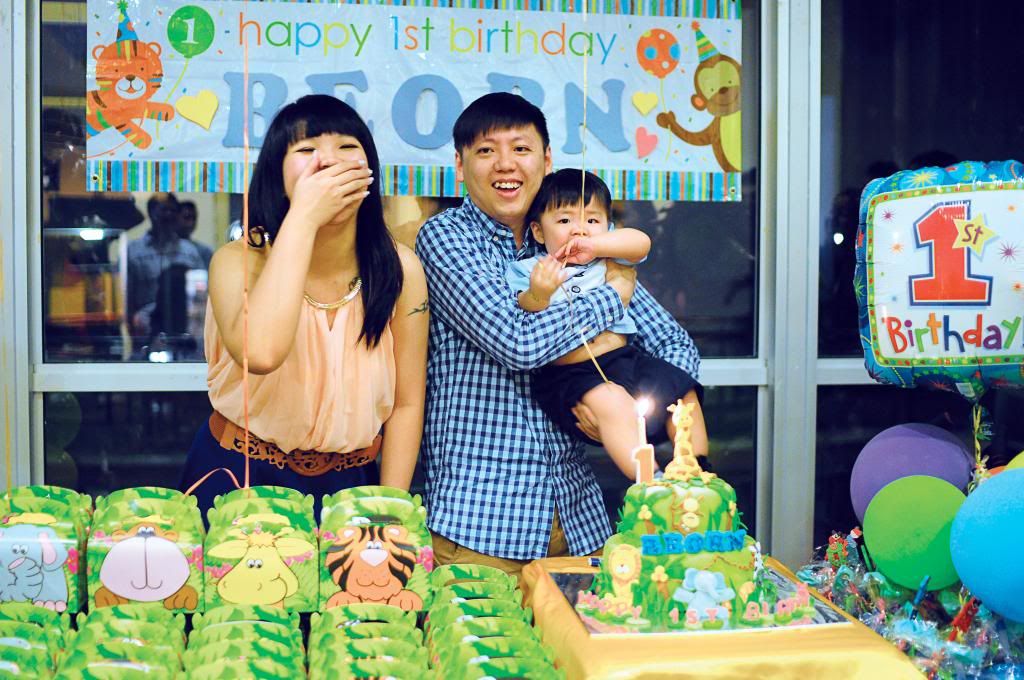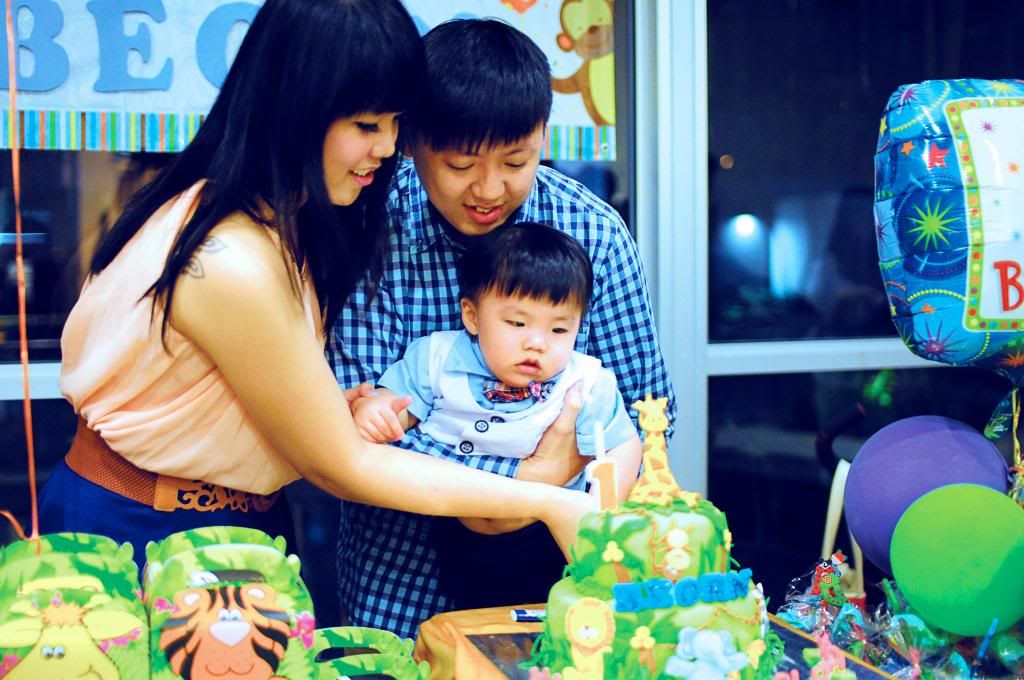 Didnt managed to get a shot with some as they either went off early or came late.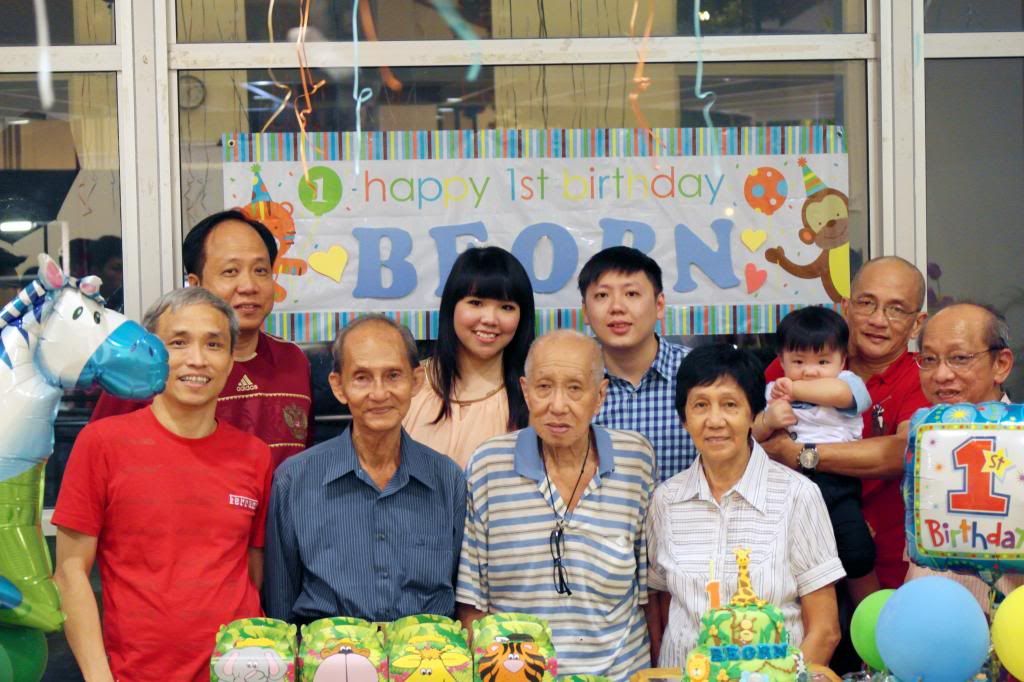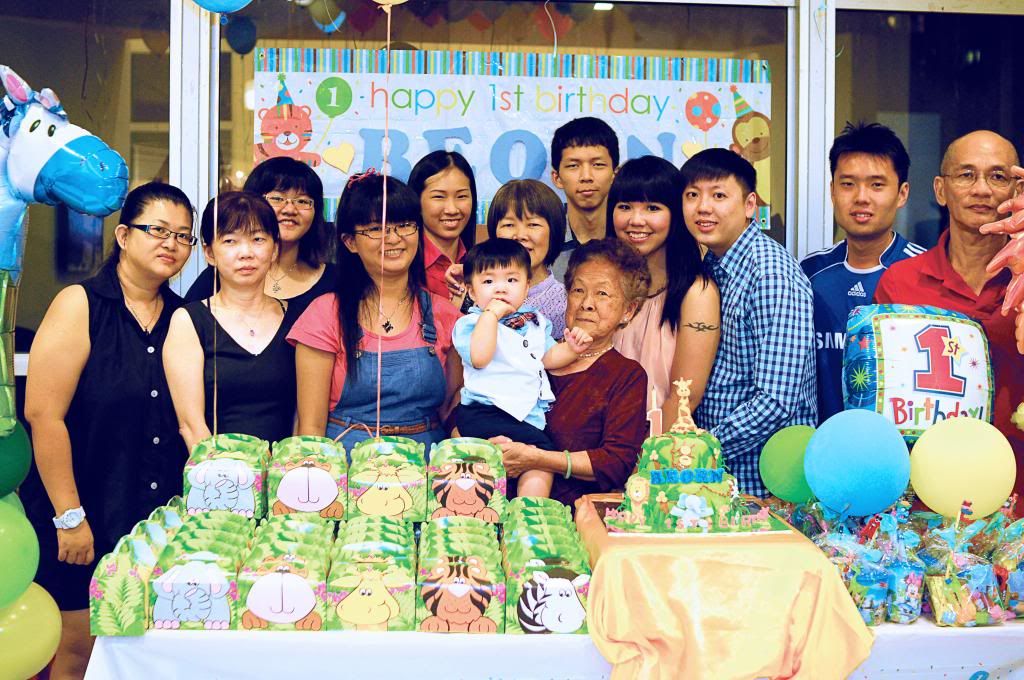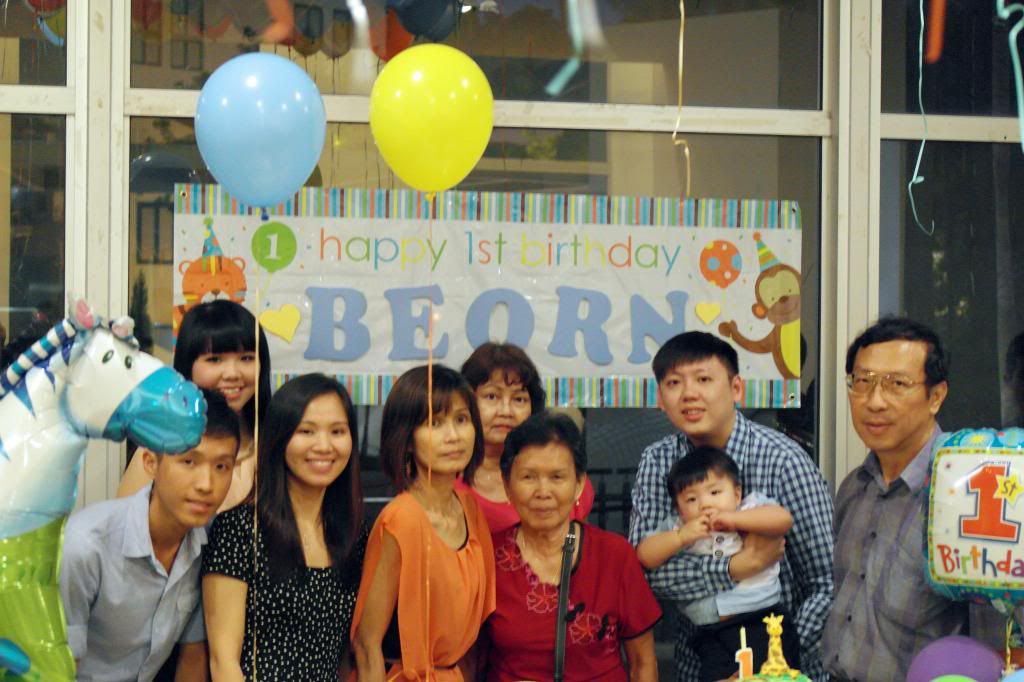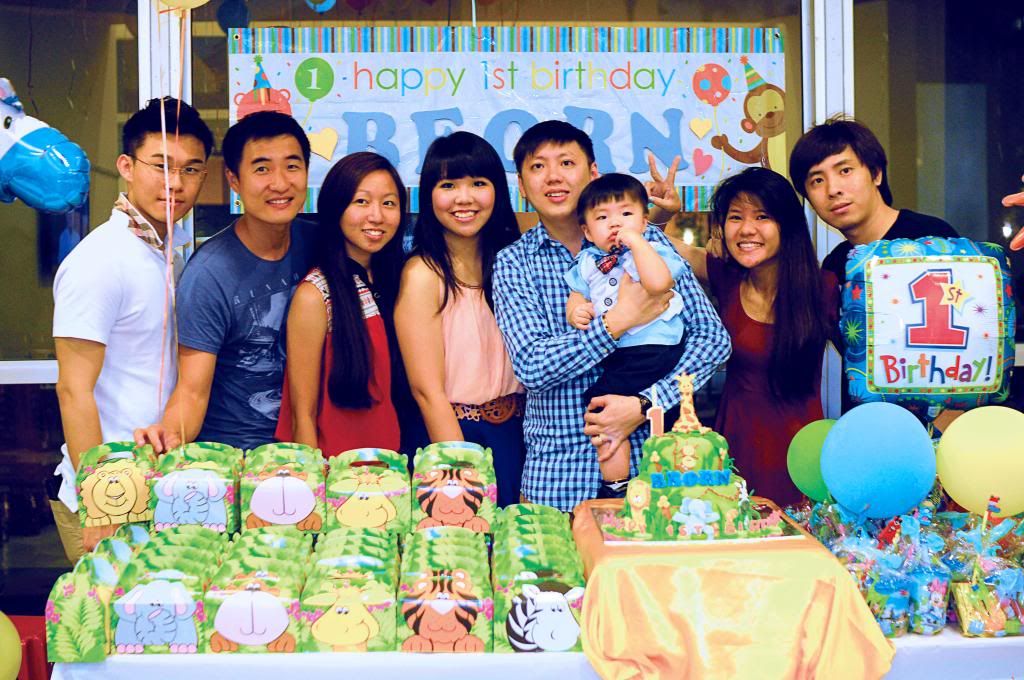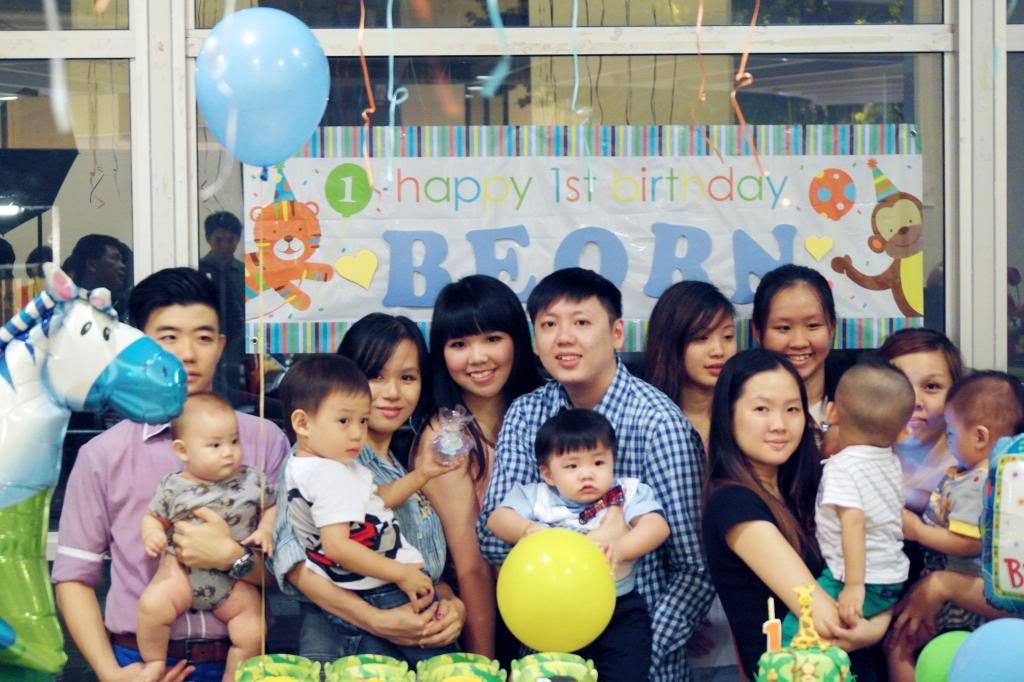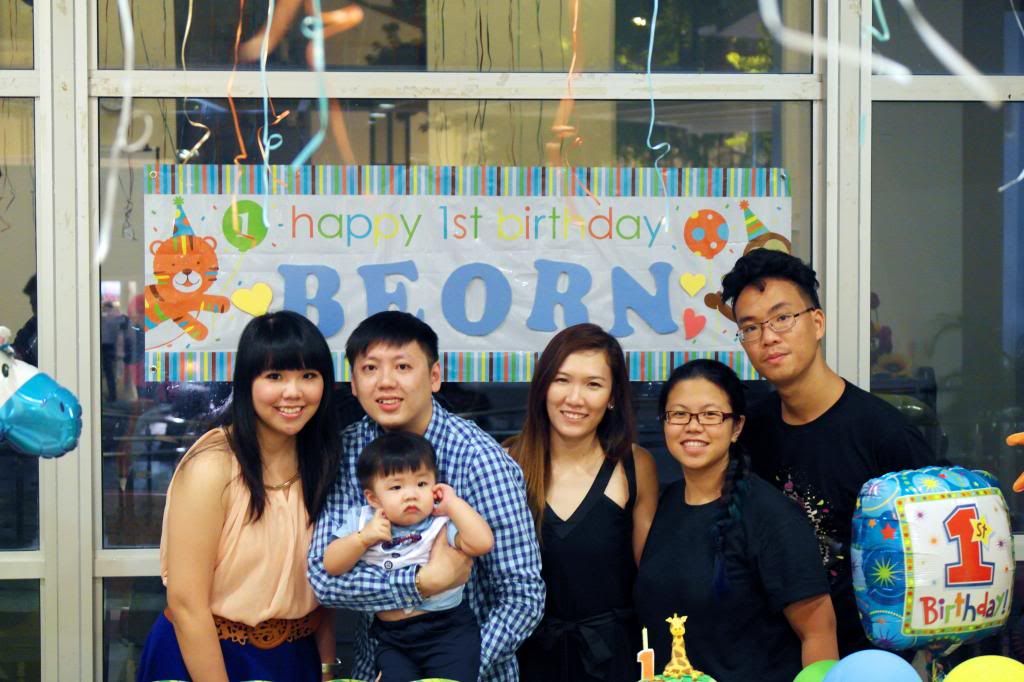 The party ended at about 9pm. The boy went back right after it ended as he became cranky due to sleepiness. Glad that the food was finished except the fried rice (which was to dry) and the sweet and sour pork.
Although i blogged this late but still am thankful to everyone who attended Beorn's party and made it a successful one. My effort and time are worth it. Of course, thank you for all the red packets and/or gifts for the boy.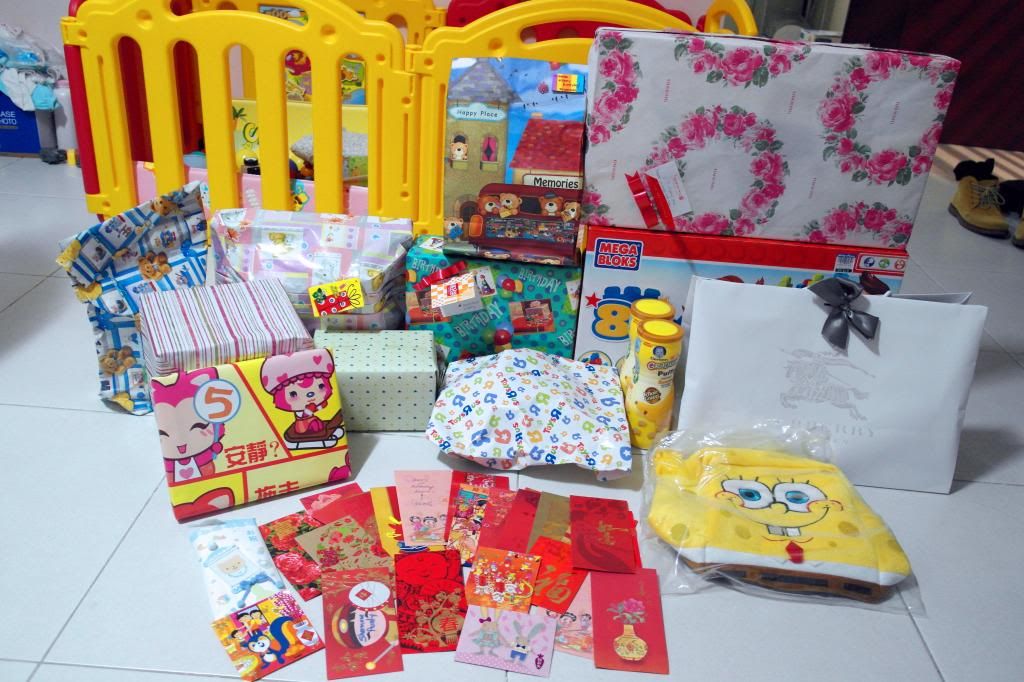 The gifts. Thanks to Yeetze and Daisy for their gifts too 🙂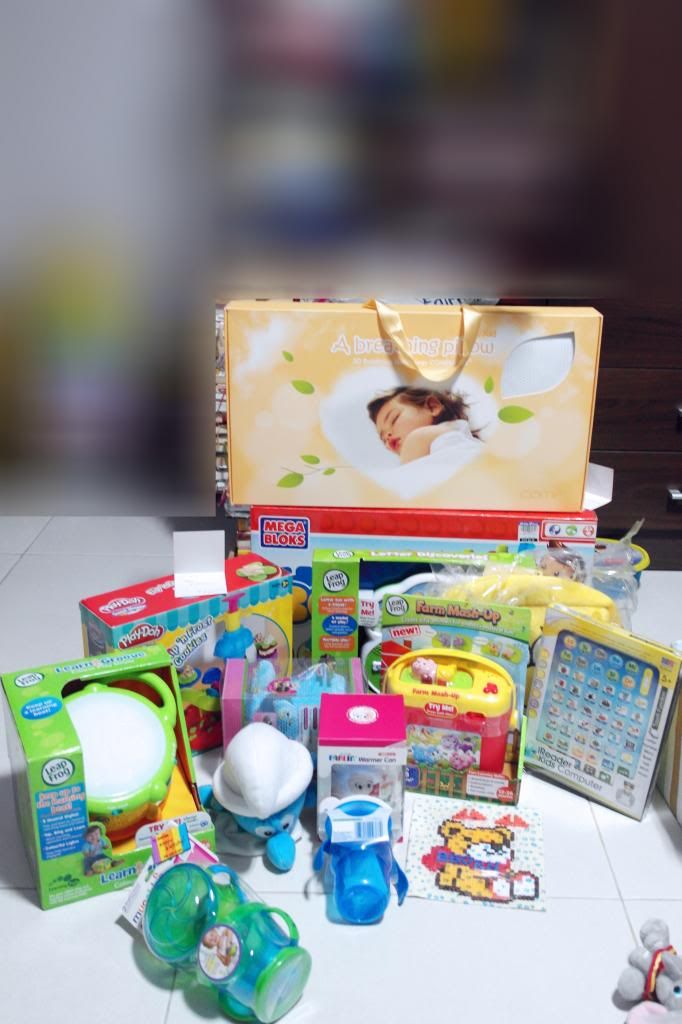 Some shots taken at the photobooth.
Specially wanna thank the following:
Uncle Hoi and Aunty Wai Yen for helping me to book the function room for the celebration.
Godma for her time, delicious desserts and helping me to unpack and pack the stuffs! Not forgetting Clarissa for helping out with the dessert table.
Regina and her boyfriend for helping with arranging the tables, chairs, goodies and station signs.
Melissa and the GMA that helped with the station signs and the photography.
Jia Feng and Guo Sheng for helping out with the after-party packing and arranging the tables and chairs back to original place. Not forgetting Aloysius too!
Lenny and Janelle, for helping me to "clear" the balloons by bringing it home!
My parents and siblings for helping out in everything.
And to anyone that I've missed out.
I'm glad that Beorn really enjoyed himself! Would like to apologize as the food and drinks wasn't enough. As usual, I didn't manage to entertain everyone. Hope the food, cake and the cupcakes are alright. Also hope that all guests had enjoyed themselves especially the photobooth! For guests who didnt get to see all the shots taken during the photobooth, click HERE.

All the arrangements are done by me. If you're keen to know where i ordered the cake from, which balloon services that i approached etc, contact me. The hus had been receiving a lot of questions like how much was the party etc. We spent a total of 2.2k. Yes, not cheap but well, Beorn is our first child. We lost one before Beorn so we treasure Beorn more than anything else. We wasnt worried about whether can the red packets cover the cost because our main purpose was to let Beorn enjoy himself. The boy loves crowd so the more the merrier. Yes, his red packets covered the cost and even more but the money belongs to him not back to our pocket.

Many told us that we are wasting money and Beorn wont remember it. Wrong! As im blogging and uploading pictures, Beorn was on my lap and he remember the event! He kept clapping hands whenever he sees the pictures of the cake. Ever since after his celebration, he loves hearing birthday song that he would clap along with the super happy and excited face! Worth it!
Well, different people with different thinking. Some would think the same as me but some wouldnt. Still, as long as my son is happy, anything within my limit, that matters.